What is Programmable Logic Controller Systems (PLC)? 
A PLC is an electronic device used to perform sequencing, timing, speed and motion controls in industrial systems. These devices allow for logical evaluation of data according to a predetermined program and enable control of the received data. PLC systems can also be used to control operations such as determining programmable outputs, timing and conditioning. In this context, PLC systems are also used for the automation of industrial processes.
The emergence of PLCs was parallel to the development of industrial control. Prior to PLC systems, analog control systems were used, but electronic systems gradually transitioned to digital-based systems as analog systems became insufficient over time. The advantage of digital systems over analog systems in terms of speed and ability to perform many functions in a small space allowed these systems to become more prominent. Moreover, the primary breakthrough in this field occurred with the emergence of programmable digital systems and the active use of microprocessor-based controllers. The challenges encountered in the design and updating stages of microprocessor-based systems allowed PLC systems to integrate faster into these processes. 
What are the Basics of PLCs?
Programmable Logic Controllers (PLCs), as previously mentioned are electronic circuits designed to perform specific logical functions. They are used to control the behavior of machines and processes to which they are connected. A PLC unit typically consists of some technical components such as Central Processing Unit (CPU), physical and analog input and output signals, communication ports and programming tools. These components are activated during the start processing, program execution and stop processing phases to perform operations. 
What Industries Are Programmable Logic Controllers Used? 
PLCs are used in a wide range of industrial facilities and production environments. They are used to control and automate the processes of automation systems such as assembly lines, packaging plants, production facilities, water treatment plants, energy plants, building automation (HVAC (Heating, Ventilation, and Air Conditioning), chiller, boiler etc.) and lighting systems. In this sense, PLC products can also be considered a part of intelligent automation systems.
Advantages of Using Programmable Logic Controllers
PLCs offer advantages particularly when complex systems need to be controlled. They can be used to control vast systems with various physical inputs and outputs. PLCs continuously perform automated processes without the need for human intervention. Additionally, programmable logic control product is advantageous in terms of safety, as they can easily apply predefined procedures to stop the process or report errors in the event of any problem. This minimizes human factors in any risk or danger situation.
In conclusion, programmable logic controller systems are advanced technological devices used to control automated processes carried out in large-scale industrial facilities.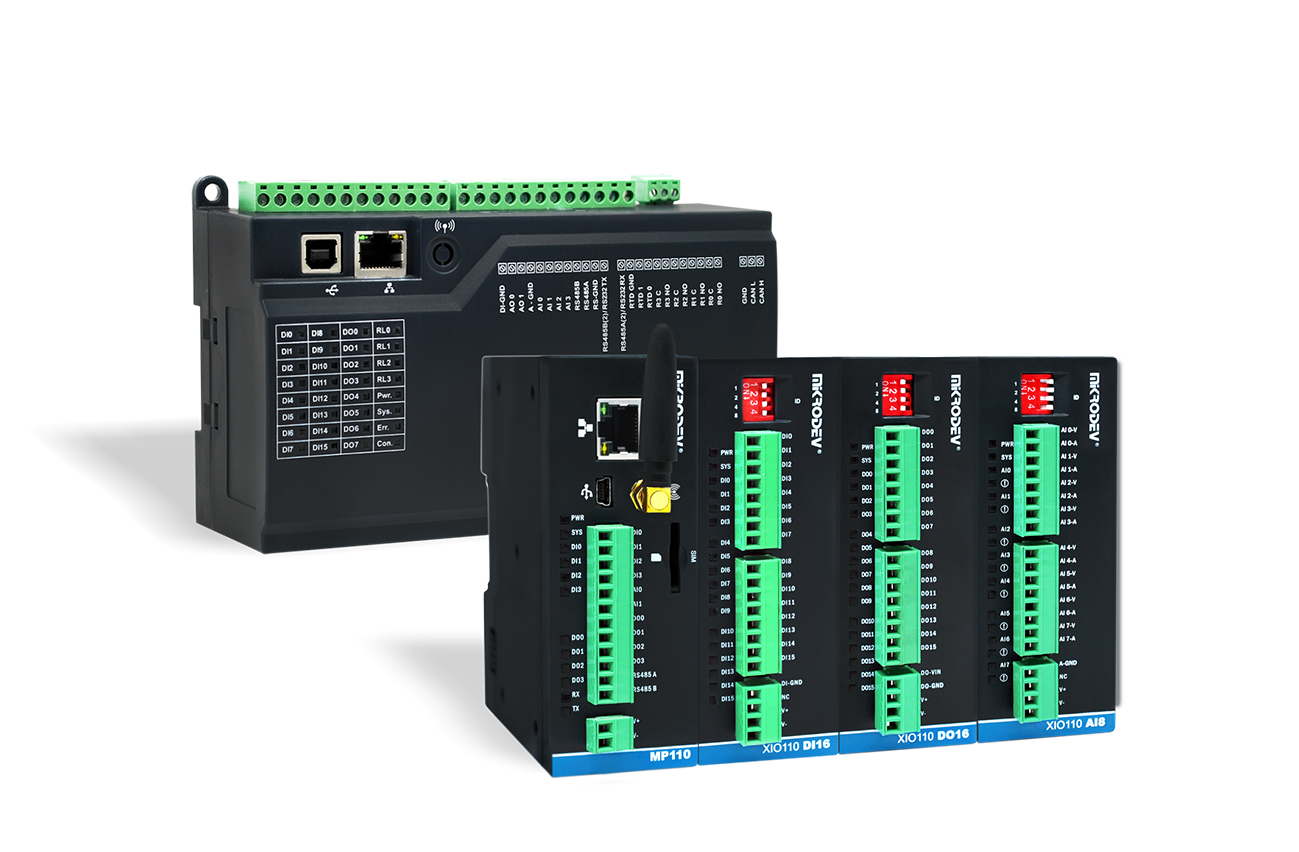 What are Mikrodev Programmable Logic Controller (PLC) Product Groups?
Mikrodev Programmable Logic Controller (PLC) product groups are listed  in two separate sub-categories:
You can review the detailed technical specifications of the products in all models on the specific product page and you can also download them as files by creating specification specific PDFs. Additionally, you can filter products according to their features and determine special solutions for your needs.
Programmable Logic Controller  (PLC) Products with Mikrodev Warranty!
Since 2006, Mikrodev has become one of the leading manufacturers in the domestic industrial control and communication products industry, by designing customer-oriented solutions and a strong technical infrastructure that enhances its reputation in the sector. Mikrodev has produced over 200 models of PLC, RTU, IoT Gateway, Industrial Router, HMI, and SCADA software products, and has included these devices in its product range. Thus, Mikrodev, as the most innovative and visionary manufacturer in the field of industrial automation and telemetry applications, exports its products to 20 countries as of 2022. Furthermore, Mikrodev continues to invest in research and development activities through the TÜBİTAK R&D center and the Bilişim Vadisi R&D center in Türkiye. Mikrodev is your reliable brand in the industry for Programmable Logic Controller (PLC) products!